T-shirt
By Christian Bovine on Day 1
day 1 – make t-shirt design / learn to use a sewing machine
I decided to do a t-shirt design / learn to use a sewing machine on Day 1. Here are the materials I used: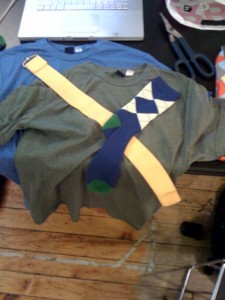 The material I used for the front was a nylon belt which was quite difficult to work with. I cut long strips and sewed them on but the strips would fray on the edges. So i had to burn the edges to melt the nylon in order to keep them from fraying. The strips were also a bit difficult to sew using the sewing machine, but it is definitely easier than doing it by hand.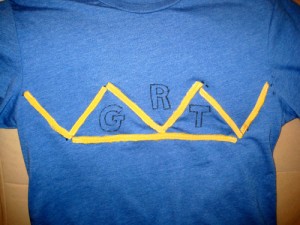 I then came up with an idea to have a sock sewed to the back of the shirt which appears as though it is stuck there because of static. This as we all know can happen coming out of the dryer. I thought it would be funny if it was sewed on for people to think you left the house and this sock has stayed stuck to you all day. So thats what I did:

The day was reasonably productive. I like the sock on the back more than the front of the shirt. I might just make a few shirts with random things stuck to the back in a similar fashion. I think its funny!
July 29th, 2008