Tickets to the Sunset
By David Steele Overholt on Day 2
After living in beautiful San Diego, California for a period of time, you start to take ocean sunsets for granted. Because I'm only in town for another couple of weeks, I want to make sure I don't do the same, but I also want to help my fellow San Diegan do the same. Today I'm creating a complete event package and traveling to Sunset Cliffs Natural Park to give out tickets to the sunset.


First on the agenda: Design, print, and cut-out tickets
I'm basing the design off of an image of a Beatles ticket from 1964 in Kansas City, MO. I think the mood and language used is perfect. "Rain or shine", "For the enjoyment of…", etc.
I also created other materials such as a poster and backstage passes.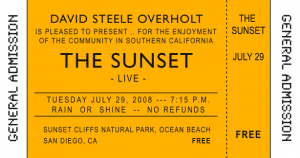 After the printing and cutting was done I gathered up a dozen chairs and a table and headed down to Sunset Cliffs
Clouds covering the coast kept me worried all day, but by around 6pm I could tell we'd have a great sunset for the evening. 5 friends (Aaron, Danielle, Kaz, Sarah, and Scott) and 2 dogs (Diego and Fletcher) came to watch the show and help set up.
I had a few people take the tickets I was handing out, and most stood for just a minute to hear what I was saying (or Danielle) and then laughed and said they would try to be back in time (almost all were exercising).
There were a few people that I saw that were camped out a little ways away, so I walked over and gave them all tickets, talked for a bit, and thanked them for coming to the performance. At the end of the sunset they gave me a standing ovation.
About half way through today I realized I was working with a project not much unlike yesterday's – can you tell my subconscious wants to soak up as much California as possible?
Everyone that we talked to was obviously cheered up by the idea and walked away laughing and talking.
A success, I'd say.
July 30th, 2008