Bre Pettis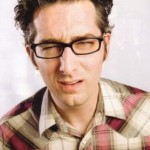 Guest Star* – Day 1
Bre Pettis produces new media for Etsy.com, the marketplace for handmade goods. In his recent past, he's been host of Make: Magazine's Weekend Projects podcast, a schoolteacher, artist, and a puppeteer. Bre is passionate about invention, innovation, and all things DIY.
"The Face of American Invention."
Seattle Metropolitan Magazine

"Mr. Pettis was like Mr. Rogers, Mr. Wizard and Bill Nye "The Science Guy" rolled into one."
Wall Street Journal

"Pettis, a tall and angular man with fashionably broken glasses, spends his days as [a] video producer."
Wired Blog
Websites
---
Bre's Project
I was invited to participate for a day in the 5-in-5 Challenge, a competition to complete a creative project every day for five straight days. The 5-in-5 Challenge takes place at the Interactive Telecommunications Program, a Master's program at New York University. If I could go back in time, I would be seriously tempted to try and get into this hands-on technology program. By the time students graduate, they have learned a lot about physical computing and can make pretty much anything they can imagine.
MP4 | Blip.tv | Youtube | iTunes
I also had the chance to interview Robert Moon about his ecofabulous wallet, Adam Parrish about his pixel linocuts, and Joshua Berry about his summer mittens. This is just a taste of the projects that are coming out of the 5-in-5 Challenge. To learn more and to watch the projects that emerge over the week, check out the 5-in-5 blog.
My guest Michael Zeltner of GRL Vienna and I worked on a Frankenface project to play with videos in the same way you can play with collages.
Etsy Street is a video series about things I see in the world and want to share with the Etsy community. Check out the first post here. Feel free to give me feedback and let me know what you think!