StopMotionCasting, equality in human machine pixel collaboration.
By John Dimatos on Day 2
StopMotionCasting from john dimatos on Vimeo.
A few months ago, I noticed that it was quite mesmerizing to flip through all my photos in Adobe Lightroom by holding down the right arrow and just letting it go crazy. I thought it would be fun for my second project to use that fascination as the jumping point for a stop motion movie using a years worth of photos.
I have a habit of taking a whole mess of photographs with different exposures and focal lengths especially when I'm using old manual lenses. Because of that, there are sets within the lot that amount to teeny shorts of time lapse animation. But since I'm using a years worth of photographs (3773 photos), the time lapse doesn't carry throught-out. Instead, it transitions to representing the intended chronology and the photographer behind the camera as the unifying themes.
In order to capture the images, I setup a screencasting application, IshowU to capture video with the following settings: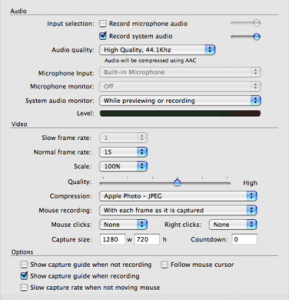 The interesting discovery was that with different encoding settings, the processor would get taxed differently during the screencasting process and different images would stall throughout the recording. THe intricacies of setting up the complex machine beforehand essentially determined when, where, and if there would be pixelation and stalling in the sequence of images. This provided me with something iphoto and imovie never have for this sort of thing: character and a fuzzy that felt true to me, the photographer, but was a native result of the machine, elevating it to co-creator rather than a simple tool.
July 30th, 2008